Diesel Shop Red Deer Area​ Dodge Cummins Engine Repair Specialists
Serving Dodge Cummins Diesel Customers in Central Alberta
For Service: 403-350-6840
---
For Parts: 403-350-8923
Alberta Cummins Diesel Engine Repair
Our technicians are trained and certified by Cummins Alberta in B and ISB series engines.
XL Mechanical Service Ltd. is Alberta's longest running shop for Dodge Ram and Cummins diesel truck repairs and parts. As certified Cummins engine repair technicians, we perform all aspects of diesel engine repair as well as repair all other components of Ram trucks. We have one of the largest inventories of used Dodge truck parts in Alberta. Being located just outside Red Deer, Alberta, allows us to service customers all across the province. With the use of Cummins specific tools and diagnostics equipment, we specialize in engine repair and diagnosis.
Check out some photos and videos of the work we have done for our customers and get in contact with us to book your truck in for an inspection, service or repair.
We have been in business for 35 years and we have repaired hundreds of Cummins diesel engines, from pickup trucks to semis.
We now specialize exclusively in B and ISB series Cummins engines found in Dodge/Ram trucks. Our factory trained diesel mechanics have a combined 45 plus years experience in diesel engine repair, are certified by Cummins Western Canada, and only work on Dodge/Cummins powered trucks.
We carry all of the Cummins specific tools and diagnostic equipment to diagnose and repair engine, fuel, electronic or mechanical issues. We also repair all major mechanical components of the truck, including: brakes, steering, electrical, transmission, transfer case and differentials. Our specialty is engine diagnostics and repair, and we use only Cummins OE parts in all repairs, no offshore parts here. Replacing an engine is expensive; we repair engines that others won't. Our in-frame engine repair averages 50% less in cost and we offer multiple options to the repair. If you're on a budget, we offer many options from specific repair of your engine, repaired and resealed engines, rebuilt long blocks, rebuilt drop ins, to used completes that have been ran, tested and verified to be good.
Cummins Diesel New & Used Parts
Experienced Cummins Diesel Mechanics You Can Trust With Your Truck.
Better Than Spec Engine Builds – Large Used Parts Inventory
If you have to have a new engine, ours are built to better than Cummins spec, come with a full warranty, and we sell them for less than anyone else. These engines run more compression per cylinder resulting in a quieter running engine with more power. With two yards, our wrecking divisions carry a large inventory of engines, fuel injectors and pumps, engine parts, wire harnesses, transmissions, transfer cases and differentials, ECM's, PCM's, interior and body parts, wheels, and tires with new units added monthly. We buy and part out perfectly good, running, driving trucks to have the best used parts available. We also sell new parts such as Bosch injectors, injection pumps, head studs, aftermarket supply pumps, engine gaskets, and engine hard parts.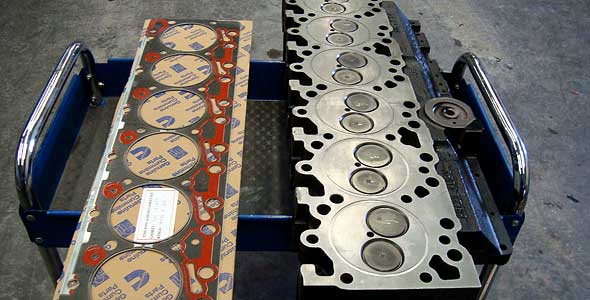 Affordable Rates
Our shop rate is significantly lower than others (we've checked).
This is the shop trucks come to when no one else can repair the problem. We believe in repair as opposed to replace. However, if you feel your truck is not worth repairing, just can't afford it, change your mind, wife won't let you, lost your job, Alberta recession, carbon tax, or any other reason, we will buy it from you in $100 dollar bills, at fair market salvage value in any condition.
So if you are looking for the best place to take your Dodge diesel truck for repair in the Red Deer area, call us today at 403-350-6840
Cylinder Head O-Ringing
At XL Mechanical Service we have invested in the precision tooling required to cut and install these o rings in-house so we have complete control over the entire process. The cutter is designed to work with a Cummins OE head gasket and the stainless steel rings once installed do not move or break. We have done dozens of 6.7 heads with zero repeat failures. This process works on the 5.9 engine as well in high boost applications such as twin turbos.
Click on the link below to see our weekly special!
If You Are In Need Of A Professional Dodge Mechanic Call XL Mechanical